Art Under the Hammer For the Homeless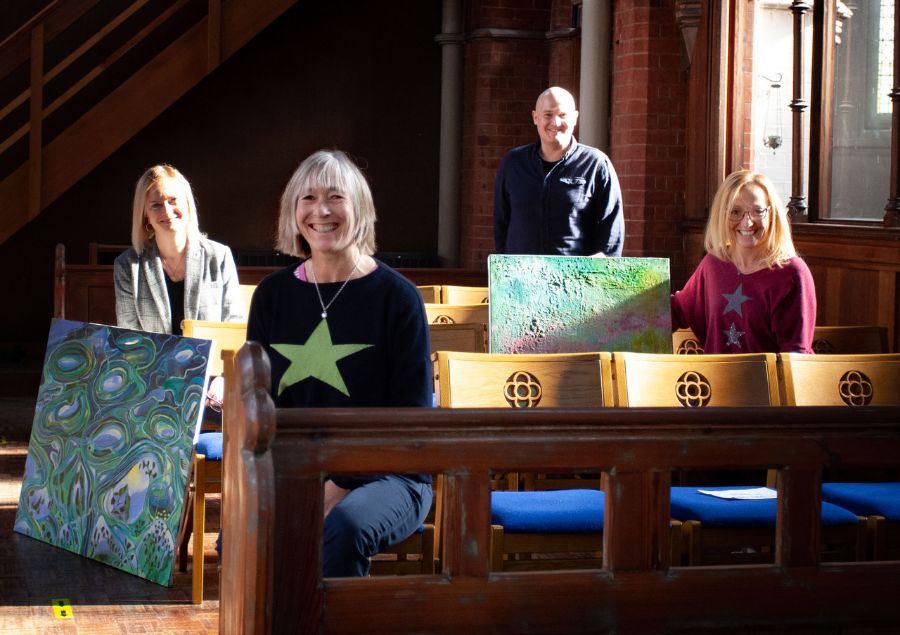 Artists at Home, the group of West London artists who usually open their houses and studios in June, announces a new online auction event in November to support local charity – The Upper Room.
The online auction follows a successful online open studios event launched in June 2020 and still running, where artists opened virtual studios to the public via their website www.artistsathome.co.uk due to the COVID crisis.
Hamish Pringle, who is organising the charity auction says, "Unfortunately, the situation regarding the pandemic remains serious and our artists are not able to show their work at the usual events during the festive season. What's more, we are aware that there are many within our community who are suffering real hardship – therefore we felt an auction for a local charity would give us all some cheer this Christmas time."
By donating art to the online auction, the artists fundraising will provide hot meals, clothing, toiletries, help with finding and applying for jobs, as well as bilingual counselling for those with mild to moderate mental health issues.
The artists are each donating a percentage of the winning bid price to The Upper Room – many are generously donating 100% of the proceeds.
'We are absolutely delighted to be the beneficiaries of the Artists At Home Online Auction. Throughout the pandemic, The Upper Room has continued to provide support to ex-offenders, people who are homeless and those who are vulnerably housed. We anticipate the demand for our services will only increase in the coming months, and so having the backing of local individuals and groups like this enables us to keep that support in place and, crucially, to adapt to whatever comes next. A huge thank-you to all the artists involved as well as Horton and Garton for sponsoring it!' says Chris Francis, Operations Manager at The Upper Room.
"Bidders will not only be able to buy unique works from local artists but they will also know they are supporting the vulnerable within their community," adds Hamish. "There are items at all price points, so we urge people to browse our auction site for the perfect feel-good gift."
Visit the auction site here to view the artworks on offer
(opens in a new browser tab)
Bidding begins Monday 16th November 2020, 10am (UK time) and closes Sunday 29th November 2020, 9pm (UK time)
Participating artists include: Warren King, Joanna Brendon, Arabella Harcourt-Cooze, Jasna Bell, Rennie Pilgrem, Jenny Price, Hugh Bredin, Sophie Newnham, Sangeeta Weatherley, Saskia Daniel, Per Gudnitz,, Henrietta Parsons, Rachel Busch, Salome Heydenrych, Felicity Gail (Debbie and Jackie), Janice Zethraeus, Ann Marie Whaley, Marcia Hurst, Gala Bell, Steph Curtis-Raleigh, Naila Hazel, Kathryn Davey, Madeleine Marsh, Annabel Hill, Francesca Walker, Laura Gompertz, Sarah Granville, Jill Meager, Jill Revie, Alla Samarina , Antonia Young, Annie Jennings, Amy Shuckburgh, Natalia Bobrova, Zoe Young, Caroline Winn, Jennifer Abbott, Juliet Strong, Hamish Pringle.
For further information please contact Hamish Pringle, email hamish@pringle.co.uk.