Take one wall...
A masterclass from Artists At Home
Art has the power to transform a space and create an entirely different atmosphere within your home. To prove the point, Artists at Home and Horton and Garton decorated the same white wall, courtesy of The Hogarth Club in Chiswick.
The results show how different colours, textures and mediums can change our interpretation of a room – to soothe, stimulate or challenge the viewer. "Art is personal of course, but it almost always enhances a room, revealing some of the character of the homeowner," says Paul Cooney, Director of Chiswick Sales for Horton and Garton. "The addition of art is one of the simplest and most effective ways to add thousands to your home's value when you come to sell." John Horton, Director of Hammersmith and Shepherds Bush Sales and founder of Horton and Garton adds, "With decades of sales under my belt in West London I can attest that homes displaying key pieces of art well appeal to a wider audience, captivate buyers and make a home feel loved. A single piece of carefully selected art can completely transform a wall or a corner of a room, catapulting the house or apartment into another stratosphere beyond its competition."
All of the art in the following pictures for 'Take One Wall' was created by artists taking part in this year's Artists at Home event (this weekend, 14-16 June 2019) – where 77 artists will welcome the public into their houses, studios and flats to view painting, glass-making, ceramics, printmaking, sculpture, photographs, textiles and jewellery. Visit www.artistsathome.co.uk to curate your own open studios trail for this weekend across Chiswick, Hammersmith and Shepherds Bush. London's most established open studios event presents the opportunity to view and purchase works from both world renowned and up and coming artists – without the gallery mark up. You can expect a warm welcome at every one of the 63 open studios in W4, W6 and W12.
*Insider's Tip: Visit your top open studios during the golden hours on Friday evening as many works are snapped up before Saturday and Sunday.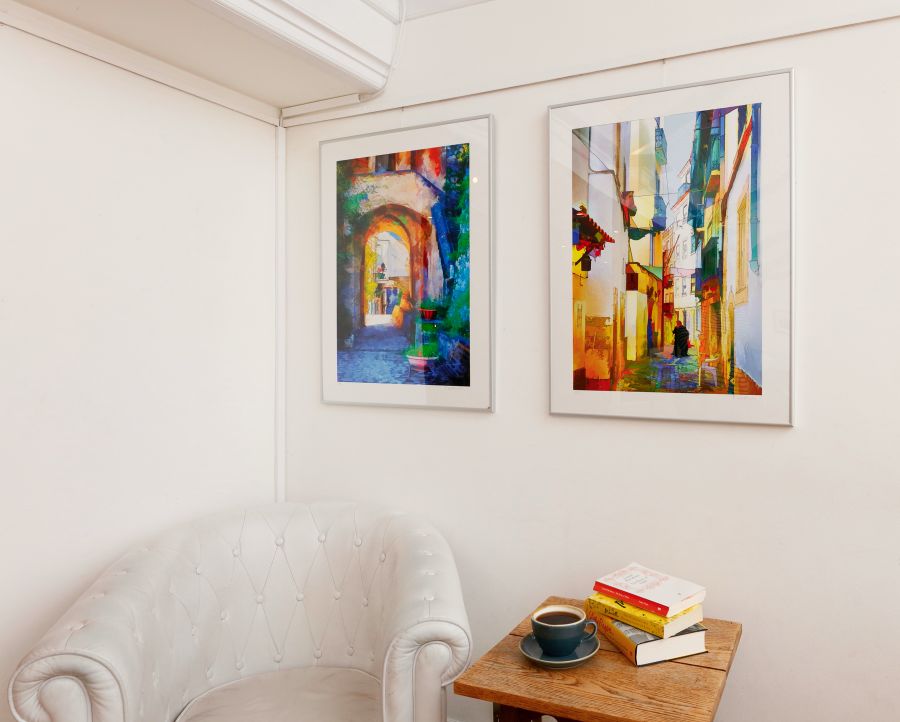 Per Gudnitz - photographer and printmaker - Riverside Gardens, W6
The bright colours of the digitally manipulated photographs by Per Gudnitz are cheerful and yet still retain a calming atmosphere, thanks to the white mounts and the warm tones. Putting two images together side by side, fills the space with golds, blues and reds, which are picked up by the items on the table. As the pictures have lots of detail, they look best in a minimal space, where their beauty shines out.
Do: add flowers or other complementary accessories like these books nearby to pick out the colours
Avoid: putting busy images against a patterned wallpaper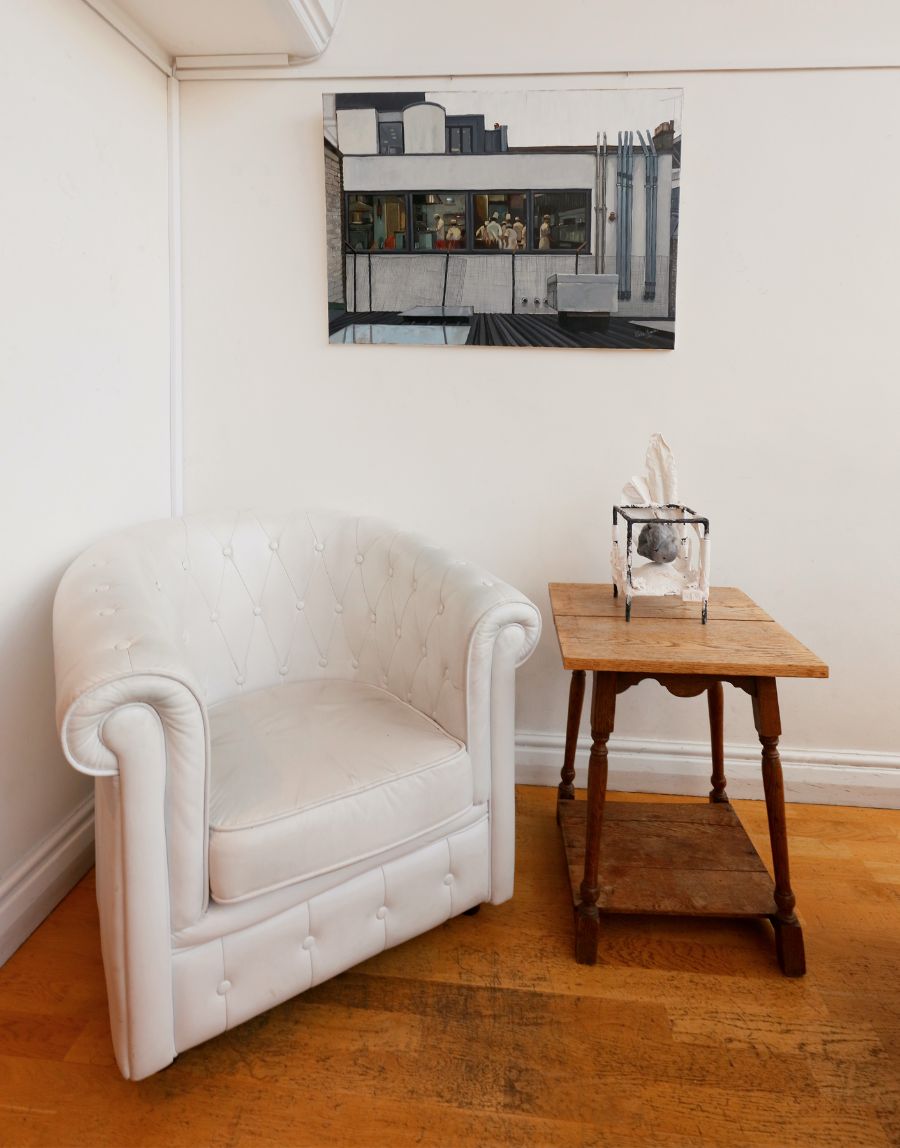 Naila Hazell, Painter, Hazlitt Road W14 and Caroline Winn Ceramics, Chiswick Mall, W6
We love the way that the lines and colours of Naila Hazell's painting of chefs working in a kitchen echo the shapes in Caroline Winn's sculpture. With both pieces, there is the feeling of the viewer peering into a frame or window to spy something within. The atmosphere created here is contemporary and a little urban. It is a sophisticated look to combine artworks and mediums in such a complementary way.
Do: explore themes, colours and shapes when putting works together
Avoid: sticking to one style – mix it up with traditional and modern placed together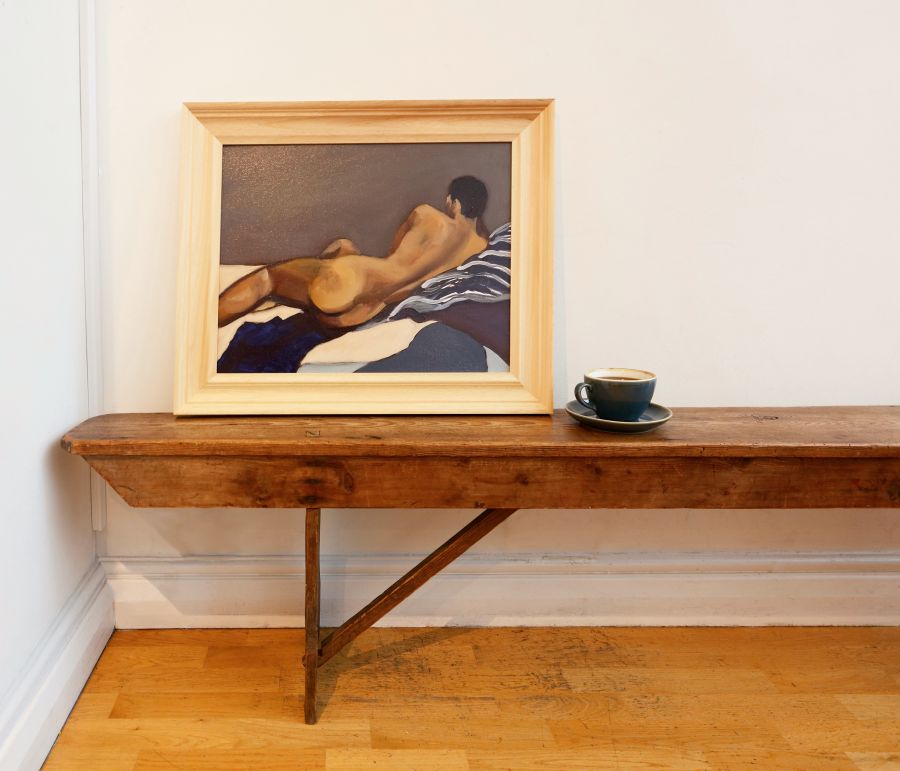 Sophia Broke, painter, 31 Fairfax Road, W4
This wonderful reclining nude by Sophia Broke contrasts rich skin tones with bold greys and blues to create an image which is modern, fresh and yet very classic. A painting like this would work well in almost any setting, but we can imagine it in a bedroom or living room. A darker painted wall would make the image stand out even more.
Do: prop up paintings as we have done here – they can look great on shelves
Avoid: nudes can be challenging – especially if they are explicit or of someone in the family! Keep it subtle like this for maximum effect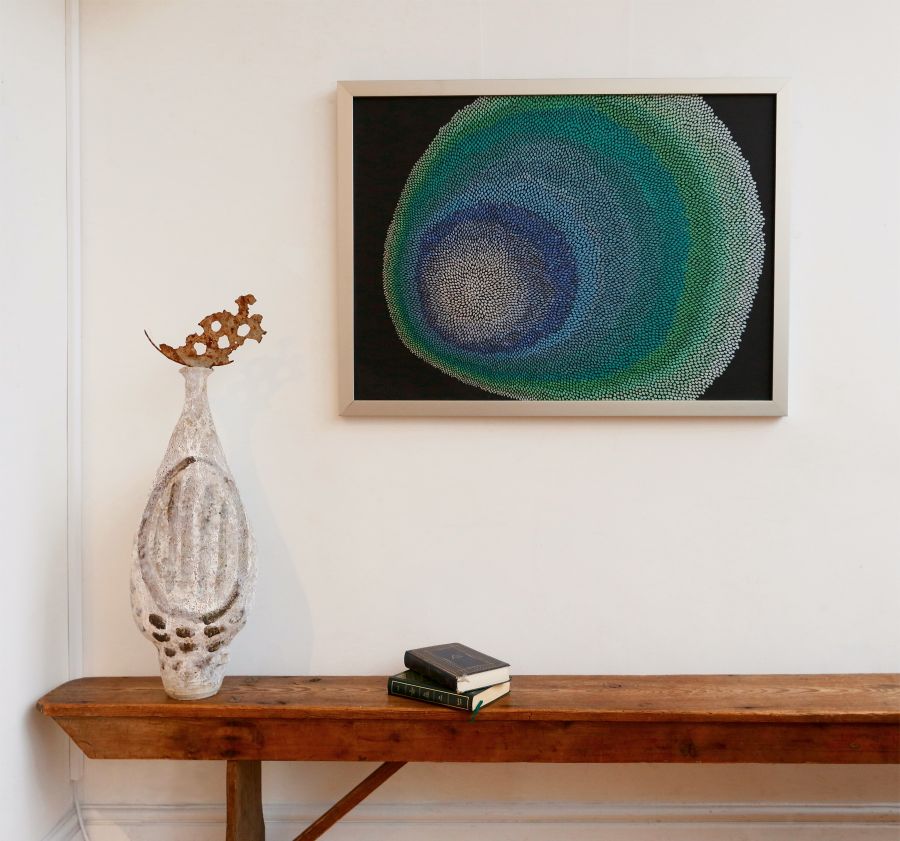 Caroline Winn Ceramics, Chiswick Mall, W6 and Sophie Ashdown Coady, Wellesley Rd, W4
This is another lovely pairing, with echoes of circles and ovals reoccurring in Caroline Winn's sculpture and Sophie Ashdown Coady's abstract canvas. Classic shapes and modern painting techniques are inspiring when placed side by side. The overall effect is eclectic and the colour tones also work very well together.
Do: place artworks in groups where the horizontal and vertical planes move the eye up and down
Avoid: too much white wall around one artwork can lessen the impact
Most important of all - enjoy your art - whichever way you want to display it - there are no rules!
Thanks to Jon Perry for the photography