Information to plan your visit
Opening times
All studios will be open at the following times:
Friday 19 June: 6 - 9pm
Saturday 20 June: 11am - 6pm
Sunday 21 June: 11am - 6pm
Studios are spread across approximately three square miles in West London. Don't forget the houses that seem a bit isolated – they are always worth the extra travel.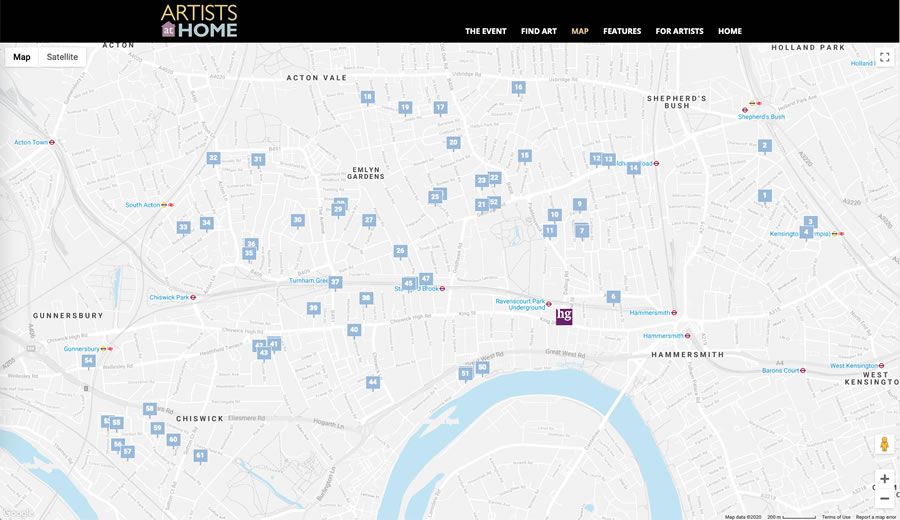 Create a favourites shortlist
If you create a free favourites shortlist, you'll be able to mark your favourite studios and plan your weekend to make full use of it. Your favourite artists will be highlighted on the map, making it easy to plan your route.
If you want, we'll also send you an email reminder shortly before the event.
Create your favourites shortlist
Get a Studio Guide
A full colour booklet for the event is printed each year - the Studio Guide contains a map and details of all artists; a great way to keep your favourite artist's details to hand whenever you want them.
Collect from the third week in May from libraries, shops and our sponsors throughout Chiswick, Hammersmith and Shepherds Bush.
Just pick up a copy from the first studio you visit during the weekend.
Download a PDF copy from this page.
The Studio Guide will be available soon.
Visitors sign in
If you already have a favourites list, please sign in below.