Studio 52
lingard house, chiswick mall
W4 2PJ
[javascript protected email address]
07901623469
Drawing, painting, printmaking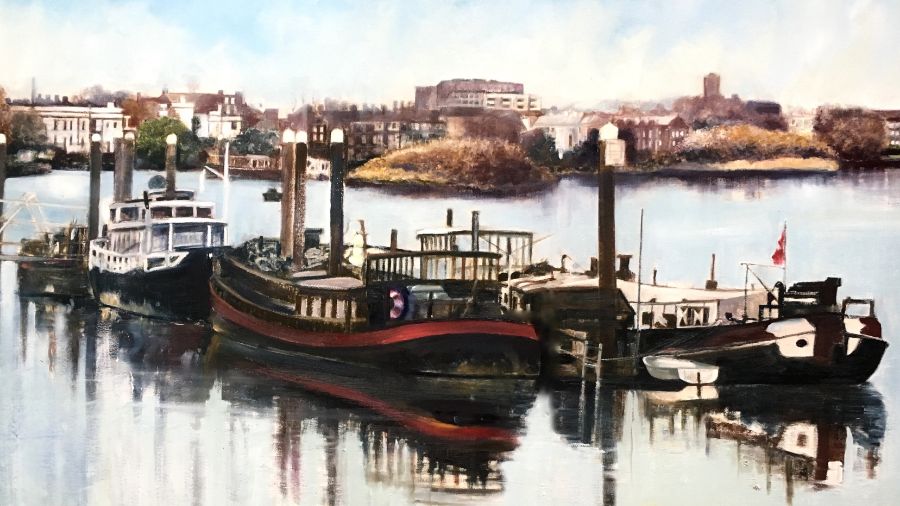 As a West London artist, a city landscape artist, inspired by the flux and flow of the natural world: the seasons, weather, water and light. My work is an experiment in capturing the constant movement of the River Thames, the Wye and the sea at Aberdyfi. I am most interested in charting where I live, seeing the topography, the continuance of the landscape shrouded by the city.
Most recently I have been concentrating on a series of paintings of the Thames, the seasons, the flowing tide and I want to capture and record it. This is what I see every day, my journey along the river. It is the City and yet not – the structure and symmetry of the riverside – architectural, regimented – planted by man: defying the wild and open beauty of the sky above, and always – the relentless tide.
Painting comes before words. And I intend that my paintings should be, in some part, be simply a gesture, sharing what I have seen.
www.arabellaharcourtcooze.co.uk

Studio information
The studio is on the ground floor.
Lingard House Chiswick Mall, London, W4 2PJ
No Wheelchair access: there are steps up to the property so not good for disability.
Nearest tube - Stamford Brook
Ravenscourt Park
or a walk down the river from Hammersmith.